Laura Dennis is a Canadian professional wrestler who works under the ringname Cherry Bomb. She is well known for working for Great Canadian Wrestling, NCW Femmes Fatales and Shimmer Women Athletes.
Ring name(s) Cherry Bomb
Billed height 5 ft 6 in (1.68 m)
Billed weight 122 lb (55 kg)
Born Toronto, Ontario, Canada
Billed from Toronto, Ontario, Canada
Debut May 2005
Training
On her 18th
, Dennis signed up to begin training at the Squared Circle Training centre, with Rob Etcheverria. Etchevaria named her "Cherry Bomb", and she began wrestling under the name. She later trained with Derek Wylde.She debuted in May 2005 in Oshawa.
Cherry Bomb vs RJ City I quit match Bloodstock 2009
http://www.youtube.com/watch?v=s72yN9jbUeg
She debuted for the Pure Wrestling Association (PWA) in a match with 21st Century Fox on July 22, 2005. She competed in the Elite 8 Tournament but was eliminated by Danyah Rivietz in the first round.[4] Later in the night she aligned with Kristal Banks only to lose to the tag team of Tiana Ringer and Luscious Lily. She scored her very first victory against 21st Century Fox at a PWX event. In January 2006, Cherry Bomb lost to 21st Century Fox in a match to determine the inaugural PWA Elite Women's Champion.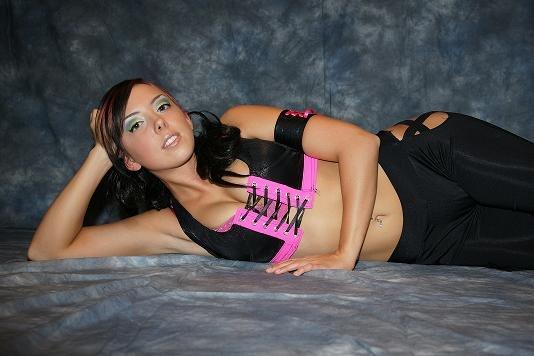 She appeared for Ottawan promotion, Capital City Championship Combat, in 2008. Cherry Bomb also wrestles for Classic Championship Wrestling (CCW), and won their Women's Championship, which she successfully defended against Evilyn, Alexxis, and Jaime D.
Cherry Bomb was part of the debut show of NCW Femmes Fatales on September 5, 2009, where she lost to Sara Del Rey. She gained her first victory in the promotion on February 6, 2010, when she defeated Mistress Belmont via pinfall. She was scheduled to wrestle against Daffney at NCW Femmes Fatales' third show, but was unable to make the show.
Cherry Bomb vs. Courtney Rush Aug.2011
http://www.youtube.com/watch?v=ZfTZ-IVgvmQ
Title:
GCW WILD Championship
IWIW Women's Title Championship
TCW Women's Championship
On May 1, 2006, Cherry Bomb debuted in Great Canadian Wrestling (GCW), quickly associating herself with Jake O'Reilly, whom she began managing. In 2006, Cherry Bomb wrestled at the Super Hardcore Anime Wrestling Expo show, a combination of the 10th Annual Anime North Convention and Great Canadian Wrestling's Great Canadian Wrestling Expo show. She teamed with LuFisto and Darkston as Team Sailor Moon to defeat Team Rocket (Timothy Dalton, Pandora and Steve Brown). She competed in the tournament to determine the inaugural GCW W.I.L.D. Champion on November 18, 2006, and defeated Portia Perez in the first round before losing to Sirelda, the eventual winner of the tournament, in the semi-finals. She continued competing in GCW throughout early 2007, teaming up with Hayden the Destroyer to defeat Cody Deaner and Portia Perez at New Year's Evil on January 12, and teaming with Sirelda to gain a victory over Deanna Conda and Aurora on April 13. The following night, on April 14, she won the W.I.L.D. Championship by defeating the reigning champion, April Hunter, Hailey Rogers, and Miss Danyah in a fatal four-way match at the Anarchy in Angus show. She successfully defended the championship by defeating the Southside Stranglerette by disqualification, and held the championship for just over two months, before she was defeated by Miss Danyah at Random Acts of Violence on June 22. On September 7, 2007 she suffered a neck injury during a victory over Danyah, after being dropped wrong while taking the Burning Hammer. The injury forced her to take a nine-month hiatus from wrestling.
Cherry Bomb vs Holly Hilton vs Xandra Bale vs Courtney Rush
http://www.youtube.com/watch?v=0_B9TjiyFXY
American promotions
Cherry Bomb had her first match for Shimmer Women Athletes as part of the SPARKLE Division, losing a match against Melanie Cruise on October 19, 2008. In June 2010, she debuted for Women Superstars Uncensored, where she lost to Daizee Haze.
Dennis was invited for a tryout match at the May 17, 2010 episode of Raw. She appeared in a segment with Goldust during the show. In March 2011, Dennis began wrestling with Florida Championship Wrestling, the developmental territory of World Wrestling Entertainment.
Japanese promotions
Cherry Bomb toured Japan in November 2010. She teamed with Sexy Star and Madison Eagles in a loss to Hailey Hatred, Yoshiko Tamura, and Makoto. She then appeared at a Super FMW show, teaming with Sexy Star again to defeat Senri Kuroki and Kaori Yoneyama.Cherry Bomb returned to Japan in July 2012, and on July 28 made her debut for the Ice Ribbon promotion with a win over Kurumi. At the following day's Kaientai Dojo and Reina X World co-promoted event, Cherry Bomb teamed with Aki Kambayashi to defeat Alex Lee and Bambi in a tag team match.
Credits: Wikipedia , Google , Youtube